The first cucumbers and tomatoes are in. Or I should say, they're gone. Gobbled up after passing feline inspection. But there are more on the way.
I'm growing two kinds, Boothby's Blonde (described by a friend as a naked Kirby), and Suyo, which is pretty spooky-looking but delicious.
Last night I picked some of each and made them into a salad that was made for me when I visited Serbia several years ago. I don't have a recipe, it's so simple you can make it however you like it. More or less garlic or dill. Creamy yogurt or low fat…
I sliced the cucumbers thinly using the slicing side of my box grater and put them in a colander in the sink, salted them heavily and let them drain for a while.
In a bowl I mixed some plain yogurt with a couple of cloves of garlic, crushed, and some chopped up dill. I rinsed the cucumbers, dried them a little, and tossed them in the yogurtey mix.
All done. Simple and refreshing.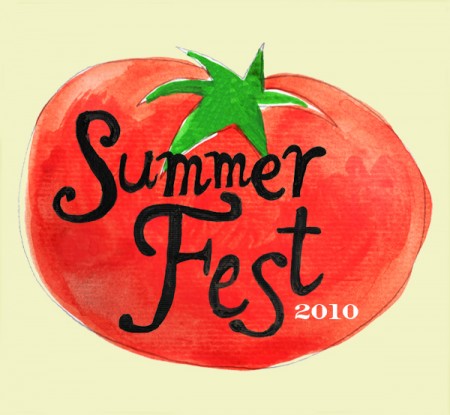 I thought I'd post about it today since it's Cukes & Zukes day on the cross-blog Summer Fest. Find more cucurbit recipes and info on Summer Fest at awaytogarden.com.